2008
Simon Hullís Andrews 52, V5 had the fastest elapsed time in the Royal Akarana YCís Fusion White Island Race and took 1st in the Premier division.

Chris Welchís Ragtime, with its Andrews designed keel, had the second fastest elapsed time and took 2nd in IRC.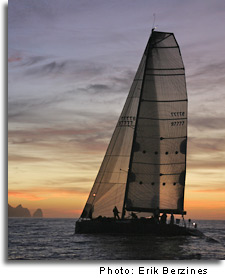 Peter Tongís SC 70, OEX, recently updated with a new Andrews designed rudder, bulb and cockpit, finished first in LBYCís 2008 Long Beach to Cabo Race and set a new record of 2d 22h 50m in the process.

Bob Laneís Andrews 63, Medicine Man (pictured right) also broke the 23 year old race record while finishing 2nd.
Simon Hullís Andrews 52, V5, scored dual victories as First Monohull to Finish and First Corrected Time Monohull in New Zealandís HSBC Coastal Classic from Auckland to the Bay of Islands.

V5 continues the streak started by the original owner, Mike Campbell, when named Victoria 5.

Also with her Andrews designed keel, rudder, and updated rig, Chris Welchís 44 year old Ragtime was third monohull.
Congratulations to Ed Feo and the crew of his Andrews 45, Locomotion, for finishing LBYCís 2008 Catalina Island Series with a first-place overall win in Class A. Peter Tongís SC 70 Turbo OEX, with Andrews updates, came in second. This unique ten race series began in April and finished in October.
Congratulations to Doug Baker and his crew on Magnitude 80 for claiming another course record by knocking 6 hours off the San Diego to Puerto Vallarta Race time. Magnitudeís time of 3d 15h 7m knocks 7% off the record.
Medicine Man
, Bob Lane's Andrews 63, won LAYC's Around Catalina Island Race with first to finish, first in class and first overall. Previously Medicine Man won Class AA of DRYC's Malibu and Return Race.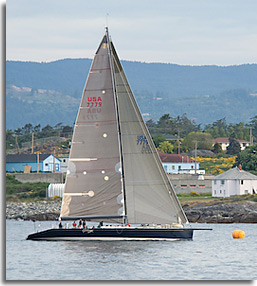 The Andrews 77 Glory swept the 2008 Swiftsure Race with First to Finish, First in Class and First Overall in her inaugural race under owner John Buchan. Glory's win culminated a four week refit that included new sprit and complete repaint.
Magnitude 80 finished first in the 2008 Ensenada Race, continuing their streak of elapsed time wins and correcting in the money with 4th in Maxi PHRF. Bob Laneís Andrews 63, Medicine Man, was close behind: third monohull to finish and 3rd in Maxi PHRF. Other leading Andrews boats included Locomotion, 2nd in PHRF A and Itís OK, 1st in IRC & 6th in Maxi PHRF. The revitalized SC 70 Orient Express took 2nd overall and 2nd in Maxi PHRF with its new Andrews designed rudder, bulb and cockpit.
Doug Bakerís Andrews designed Magnitude 80 sailed a record Corona del Mar to Cabo race with a time of 2d 10h 23m 27s in breezy late March. Other Andrews trophy winners included Medicine Man 2nd in ORR & PHRF Maxi classes and Itís OK, 2nd in PHRF A and 3rd in IRC.
Simon Hullís Andrews 52 V5 led the 43 boat fleet to the finish line in the 2008 Auckland to Tauranga Race sailed March 20. Sporting their new Andrews canting keel, V5 also led Aucklandís hot 50ís canting keel fleet to the finish line in 2007 Coastal Classic.
Doug Bakerís high-tech Magnitude 80 beat the 14 year old Tahiti Race Record by nearly 3 Ĺ days. The four-year-old Andrews 80, with a canting keel system, forward dagger board and pivoting bow pole, sailed 3,571 miles from Los Angeles to Tahiti in just 11 days, 10 hours, 13 minutes and 18 seconds.

Chris Welchís Ragtime, recently modified with a new Andrews designed keel, also beat the former Tahiti Race record, finishing the race in

14 days, 16 hours, 24 minutes, 23 seconds. Bob Laneís Andrews 63

Medicine Man

broke the record as well with a race time of

13 days, 8 hours, 35 minutes, 23 seconds.
Capping off a highly successful season, Bob and Cathy Sampleís Andrews 30, Flags, pulled off a dominating win at the Chicago Yacht Clubís Verve Cup Offshore Regatta on August 17th. This season, Flags also boasted wins at the Chicago NOODS, the Chicago/Waukegan Race, and the UK/Halsey Regatta. Currently, Flags is leading the LMSRF PHRF Lake Michigan Boat of the Year Race after having won that title for the past two years.
The Hamburg, Germany based Andrews 56 Norddeutche Vermoegen, scored an impressive first to finish in the RORCís prestigious Cowes-Madeira Race. The crew raced through grueling ocean conditions to finish almost seven hours ahead of the next boat.
Locomotion, Ed Feoís Andrews 45, won ULDB A in the 81 mile Santa Barbara to King Harbor Race followed by Peter Tongís SC 70 Turbo OEX sporting her recent Andrews updates. Glenn Highlandís Andrews 39 Bien Roulťe scored third in ULDB B in the Santa Barbara to King Harbor

Race, finishing boat for boat between SC 50ís and SC 52ís.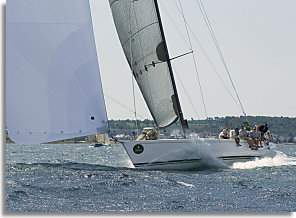 Congratulations to Bill Alcott and the crew aboard the Andrews 68 Equation for winning the Turbo Section for the fastest boats in the 100th Chicago to Mackinac Race by over 3 hours.
2007
Doug Baker's Andrews designed Magnitude 80 shattered the 22 year old course record in Del Rey Yacht Club's 19th Annual Marina del Rey - Puerto Vallarta race. Magnitude 80 covered the 1,125 nautical mile course in 3 days, 15 hours and 51 minutes averaging 12.8 knots to sweep 1st to finish, 1st in class and 1st overall on corrected handicap time honors.
Bob Lane steered his Andrews 63 Medicine Man to overall victory in LAYC's Feb. 10 Around Catalina Island Race. Medicine Man pulled out to an early lead and turned this 70 mile traditionally overnight race into a day sail by finishing at 8:24 PM.
Alchemy, an Andrews 77 finished the Around Long Island Race in 17h 48m to break the mono-hull record by 4.4 hours and the best previous multi-hull time by over two hours. The US Merchant Marine Academy crew also captured first place on IRC handicap for the race.
Bill Alcottís Andrews 68 Equation corrected to 1st Overall in Division 1 and 1st in IRC A of Bayview YCís Race to Mackinac after finishing ahead of all others except the 86 foot Windquest.
Congratulations to John Thompson and crew aboard the US Merchant Marine Academyís Andrews 77 foot Alchemy for finishing ahead all but one of the 265 boat fleet in the 100th anniversary Bermuda Race. Even though Alchemyís upwind sails were severely reduced to fit the rating limit, they pulled to the top of the fleet in the lightest wind on record.
Sam Chanís Andrews designed Ffree Fire 52 crossed the finish line first in the 480 mile Hong Kong to San Fernando, Philippines Race. Ffree Fire 52 was only 4 minutes shy of the elapsed time record and was helped by a keel and rig new for this season.
Magnitude 80 takes line honors as 1st to finish and 1st overall in Dana Point Yacht Clubís Memorial Day Weekend ďAround Catalina Race.Ē Magnitude finished the 75-mile, light-air race just before midnight. The Andrews 45,

Locomotion, was the 2nd fastest boat around the island, finishing at 5 AM, and correcting out to 2nd

in class.
Bob Sampleís Andrews 30 Flags won PHRF Div. 4 of the Chicago NOOD Regatta, besting a 16 boat division. Earlier Flags won section 2 of the UK/Halsey Regatta with straight firsts.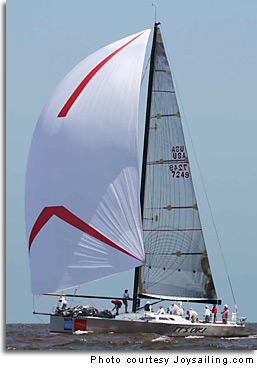 Magnitude 80 continued her winning ways with 1st in Division I of Transpac. Bob and Rob Bartonís Andrews 56 Cipango scored 2nd Overall as well as 2ND in Division IV. Itís OK, (pictured) Lew Beery & Tom Purcellís Andrews 50, finished 3rd in Division III along the way beating several TP 52ís and ULDB 70ís. The Andrews office also contributed to the optimization of Philippe Kahnís double-handed winner, the Owen-Clarke 50 Pegasus 101 and designed a new keel and rudder for Kokopelli II, winner of the 50-52 Division and 3rd Overall.