Alchemy, an Andrews 77, finished the Around Long Island Race in 17h 48m to break the mono-hull record by 4.4 hours and the best previous multi-hull time by over two hours. The US Merchant Marine Academy crew also captured first place on IRC handicap for the race.
Bill Alcottís Andrews 68 Equation corrected to 1st Overall in Division 1 and 1st in IRC A of Bayview YCís Race to Mackinac after finishing ahead of all others except the 86 foot Windquest.
Alchemy second to Bermuda in light air challenge. Congratulations to John Thompson and crew aboard the US Merchant Marine Academyís Andrews 77 foot Alchemy for finishing ahead all but one of the 265 boat fleet in the 100th anniversary Bermuda Race. Even though Alchemy's upwind sails were severely reduced to fit the rating limit, they pulled to the top of the fleet in the lightest wind on record.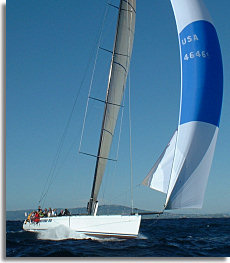 Magnitude 80 smashed the 277 mile Coastal Cup record by a whopping 5 hours to finish Encinal YCís race from San Francisco to Santa Barbara early on in the morning of June 9. The crew reported steady 20 knot speeds and bursts approaching 30.
Magnitude 80, Doug Bakerís Andrews 80 lead a tight boat for boat race with the MaxZ86 Windquest before pulling away in the final stretch to finish almost 2 hours ahead and correct to 2nd in the Maxi Class of Balboa Yacht Club's Newport to Cabo San Lucas Race. Other top performing Andrews designs include Medicine Man, 3rd Maxi Class; Kahoots 2nd Americap B, and Locomotion 2nd in PHRF A & 3rd in Americap A.
Doug Bakerís Magnitude 80 recorded the fastest time in the San Diego to Puerto Vallarta Race despite being virtually becalmed for the last 12 hours within 20 miles of the finish. MAGNITUDE starts 2006 with two elapsed time victories to follow a successful 2005 season.
Andrews designs lead the 82 boat fleet in January 7thís Malibu and Return Race with Doug Bakerís Magnitude 80 crossing the line first, followed next by Jay Steinbeckís Margaritaville and Al & Vicki Schultzís Vicki. Magnitude also recorded the corrected time victory by over 10 minutes and Margaritaville made it a 1-2 punch correcting to second.
2005
The Andrews designed Magnitude 80 scored a clean sweep in the Little Ensenada Race with first to finish, first in class and first overall in the 90 boat fleet that started from San Diego October 7. Magnitude sailed the 62 mile course more than an hour faster than the next finisher, correcting out on the second place finisher by 19 minutes.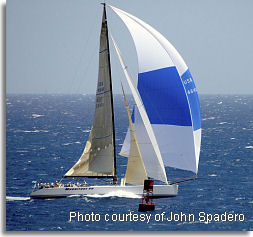 Doug Bakerís Andrews designed Magnitude 80 blazed across the Diamond Head finish line to take 2nd in Division 1 of Transpac 2005 ahead of five other super-maxi racers. Other Andrews designs on the podium included Cipango, 3rd in Division 3 & 1st in 50ís Fleet, and Kahoots, 3rd in Division 4 & 40ís Fleet. Davis Pillsburyís Cal 40 Ralphie also benefited form Andrews optimization to blitz their 14 boat Division.
Magnitude 80 shattered the Newport to Cabo San Lucas course record taking 10 hours off to bring the record to under 62 hours. Other Andrews boats scored as well with Deaver & Williamson's Andrews 43 Kahoots placing 2nd in Class D and 4th overall and Locomotion, Winslow & Melinda Lincoln's Andrews 45 ULDB, taking 2nd and Flash, Mark Jones' Transpac 52, 3rd respectively in Class B.
Bill Alcottís Andrews 68
Equation both set a new monohull record in the Bayview Mackinac Race and won large boat IRC division on corrected time. Equation's victory this year follows an overall handicap win in the 2003 Bayview-Mac Race.
Congratulations to Bob and Cathy Sample who sailed their Andrews 30 Flags to a victory in the Level 99-117 Division of the Chicago NOOD Regatta. The Samples are the third owners to continue Flags long winning tradition which began by winning Division I in the 1987 MORC Internationals and Cleveland Race Week.
Congratulations to Jay Steinbeck and crew for winning Class A of the Ahmanson Cup with his Andrews 52 Magaritaville 1Ĺ and starting the Ullman Sails Inshore Championship with a win.