2004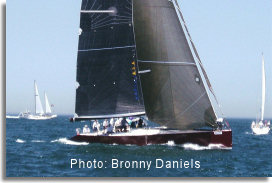 Mary and Dick Compton sailed Alchemy, their Andrews 77, to a clean sweep as first monohull finisher, first in class, and first in ULDB division in the Ensenada Race. Doug Baker's Magnitude 80 recovered from getting caught at the start in the windless zone between sea and land to cross the line second monohull.
2003
Medicine Man
, Bob Lane's Andrews 61 took the triple crown of First to Finish, First in Class and First Overall in Southwestern Yacht Club's Little Ensenada Race sailed October 3. This 62 mile dash from San Diego to Ensenada marks the end of the summer season of Southern California Point-to-Point races and attracted over 80 entrants. Despite light air, Medicine Man covered the course in 6h 25m for an average speed of 9.7 knots and finished 45 minutes ahead of the next boat, a Santa Cruz 70. Congratulations to Bob and crew!
Locomotion, Winslow and Melinda Lincoln's Andrews 45 crossed the finish line first in the Marina del Rey to Puerto Vallarta Race. Keith Kilpatrick skippered the boat to finish ahead of all competitors, even the boats that started a day before, and also captured the corrected time victory.
Andrews designs set a new course record and scored overall first and second places in Bayview YC's 253 mile Race to Mackinac Island on July 21. For the second weekend in a row Richard and Mary Compton's Andrews 77 Alchemy finished first in the race to Mackinac, this time setting a new monohull course record. Bill Alcott's Equation, an Andrews 68, was the next finisher and corrected time winner, just 3 minutes ahead of Alchemy on corrected time.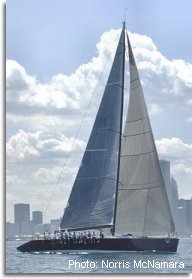 Alchemy, Mary and Richard Compton's new Andrews 77, lead the fleet from the Chicago start to the finish at Mackinac Island in the early hours of July 14. At the Manitou check-in Alchemy had stretched to a 3 1/2 hour lead over the next boat and despite running into a windless zone preserved more than an hour's lead over the chasing boats that brought new wind to the finish. At the island, Alchemy then quietly raised her 14 foot keel to a 9 1/2 foot draft for a prime berth at the shallow docks.
Ray Ordoveza's Andrews 53 Karakoa won the Volvo Singapore Straits Regatta held January 15-19, besting a strong IRC fleet. The Andrews design won three of the six races sailed in the waters of Singapore, Indonesia and Malaysia over an international fleet hailing from Hong Kong, Malaysia, Philippines, Singapore and Thailand with crews hailing from as far away as Australia, New Zealand, England and the USA.
2002
Philippe Kahn and his new Andrews designed Pegasus 55 flew around the 58 mile Singlehanded Farallones Race course on April 20, crossing the finish line ahead of 53 competitors. Two weeks earlier Philippe and Pegasus 55 similarly flew around the Farallones course in the Doublehanded Farallones Race finishing second, only 4 minutes behind the Wally 67.
J-Bird III wins NHYC's Dickson Series. Victoria 5 takes second in series held April 20 - 21, 2002. Both Andrews Transpac 52s continue their winning ways.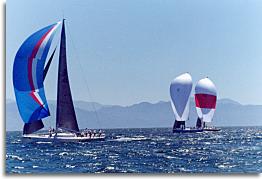 Andrews designed Transpac 52´s dominated MEXORC with J-Bird III and Victoria 5 finishing first and second in the Transpac 52 division and J-Bird III also winning the overall Rolex Trophy.


(Photo shows J-Bird III leading other TP 52
designs during the MEXORC regatta)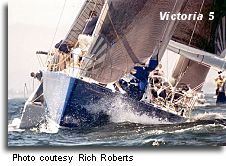 The Andrews 70 Magnitude took 1st place in PHRF AA and the Andrews 52's Victoria5 and JBird III were 1st and 2nd in the PHRF A class in the annual San Diego - Puerto Vallarta race completed February 28th, 2002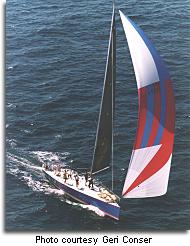 Medicine Man downwind
The Andrews 70 Magnitude and Andrews 61 Medicine Man (shown at left) lead a 63 boat fleet across the finish line January 5, 2002 in DRYC's Malibu and Return Race. Winslow and Melinda Lincoln's Andrews 45 Locomotion scored 2nd in PHRF AA on corrected time.