The design office uses state-of-the-art CAD systems to generate hull shapes and produce working drawings and patterns. Velocity prediction programs and rating projections are accomplished with in house programs and consultants provide CFD appendage and FEA structural analysis.
Construction techniques and materials are rapidly evolving with the advent of composites and laminating techniques. The firm keeps on the cutting edge of development by constantly updating structural programs developed in house and integrating information from a strong network of boat builders, aerospace consultants and materials suppliers.
This constant attention to developing technologies and design tools assures each client that their project is completed utilizing the latest techniques and materials.
There is an intangible about an Alan Andrews designed yacht that words are incapable of describing. Ask anyone who has seen an Andrews design, either on the race course or in an anchorage filled with other yachts, and the invariable reaction is "That's a great looking boat.". The aesthetically pleasing lines of any Andrews yacht are achieved with absolutely no sacrifice in boat speed.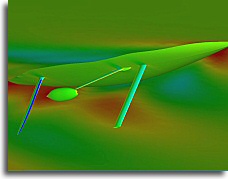 Computational Fluid Dynamics
model of Magnitude 80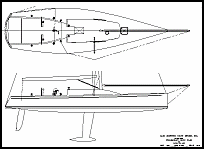 Power and sail, racing and cruising designs