Transpac 2001 bulletin!
David and Donna Janes' new Transpac 52 "JBird III"
is first to finish in Division 2 of the 2001 Transpacific
Yacht Race to Hawaii. She finished on July 10th at
9:36 AM HST, 3 hours ahead of the first ULDB 70!
This new design is winning right out of the box
beating veteran performers boat for boat!
"JBird III" at Transpac finish
(Click picture for a larger version-photo by Rich Roberts)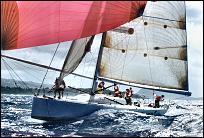 Early 2000 performances by the Andrews 45 "Locomotion" have shown just how fast these new concept ULDB's can be, both upwind and down. This exciting Andrews 52 design was commissioned by two Southern California clients for the 2001 season with two boats built by different builders. Dencho Marine launched their first Andrews 52 in early June 2001 and will then continue building from production tooling. Westerly Marine built a sistership Andrews 52 from male tooling that launched in late May 2001. In addition to buoys racing, this design will compete to be the first "50 footer" to Hawaii under Transpac Yacht Club's new Transpac 52 "Box Rule".
These boats are a real gas to sail! Upwind the fractional non-overlapping jib and large mainsail have heaps of sail for strong light air performance yet the ability to de-power quickly in a breeze. Off the wind and offshore the masthead spinnakers are taller and wider than a traditional ULDB 70 but on a boat weighing just two thirds as much.
Can you say "planing"!